Overnight White Water Rafting in the Batoka Gorge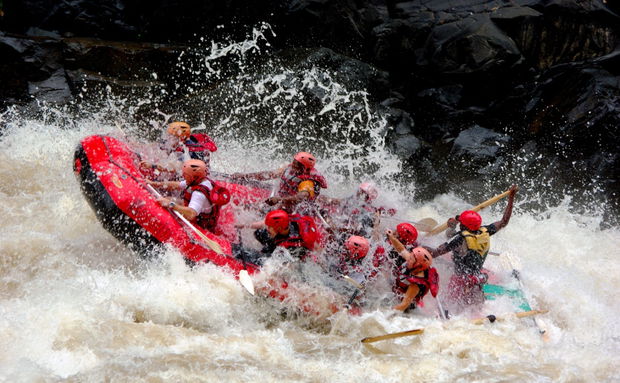 Extend your rafting experience with our 2-3 days adventure, experience the most exciting and challenging rapids rafted anywhere on the planet! The Zambezi River below the Victoria Falls is widely considered to be the very best rafting river in the world. A deep channeled, high volume river, the Zambezi has class 3 to 5 rapids interspersed with tranquil pools.
Pick up by our vehicles directly from your accommodation (time to be advised at booking). Your gear for the overnight will be loaded into our vehicles.
Snacks on the side of the river at Rapid 10.
Upon arrival on the beach at Rapid 21, the camp will be ready. Dinner and overnight on the beach around a campfire.
Wake up at around 6am. Tea, coffee and breakfast.
Rafting from Rapid 21 to Rapid # 25 or further on to Lower Moemba -
2nd night on the 3 days trip just below the Upper Moemba Rapids.
Drive back to Livingstone through the African bush in a 4WD vehicle, crossing several traditional Zambian villages.
Gallery
Rates
US$ 210 per person from rapid # 1-25, overnight at rapid # 21
US$ 280 per person from rapid # 1 to Lower Moembo, overnight at rapid # 21 or 25
US $ 410 per person from rapid # 1 to Lower Moembo, 3 days, 2 nights
Excluded US 10 pp 'river usage' fee
Including a free 'Swimming under the Falls' and complimentary video of day 1
Minimum of 4 participants required.
.