Safari through Kafue and Liuwa National Park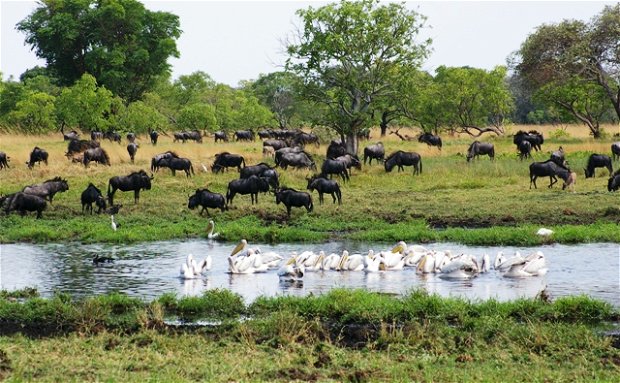 Trip from Lusaka to Livingstone or vice versa through Kafue National Park and Liuwa Plains National Park.
Minimum 4 participants, maximum 12 participants
Gallery
Itinerary
Day 1
Lusaka – Central Kafue National Park
We leave Lusaka early morning to drive to Kafue National Park.
Camping on the banks overlooking the Kafue River. (-/L/D)
Day 2 and 3
Kafue National Park
We spend the day doing game viewing drives in the Park.
Several small rivers cross this area. These leave a number of waterholes in the dry season for the animals to quench their thirst. Wild dogs, which roam large areas of the park, cheetah and lion are among the inhabitants here. Camping on the banks of the Kafue River. (2x FB)
Day 4, 5 and 6
Liuwa Plains National Park
There are few roads in Liuwa Plain National Park. That, however, is part of the park's attraction: around 3660km² of untouched Africa. Most of this is a vast honey-coloured plain of grass, with just the occasional water pan, islands of raffia palms or a small tree-belt interrupting the scenery.
Thousands of wildebeest (estimated at close to 50,000), with zebra, tsessebe and buffalo, group together, joining the more static resident roan antelope, red lechwe and reedbuck. The open plains are particularly good for oribi antelope. With all these come the predators: hyena, wild dog and lion can be spotted. End of October thousands of wildebeest will gather in the plains.
Camping in the bush (running water, showers and flush toilets are present). (3x FB)
We follow the course of the Zambezi river up to the beautiful Ngonye Falls, not as mighty as the "big brother further south, but equally impressive. The Zambezi spreads into several channels and the masses of water find their way through the basalt rock formations. We will hike around the area to explore this beautiful landscape.
Camping near the river (FB).
Drive along the Zambezi River to Livingstone. Drop off at your accommodation in town. We can arrange activities (white water rafting, canoeing, helicopter flight etc) and book lodger for you. (B/-/-)
Rates
US$ 1,650-00 pp sharing
US $ 70-00 pp single supplement